Back to all posts
Posted on
We send 1690 kg of food to the Peace River Food Bank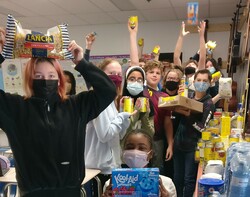 1.69 million grams of food!!!!! That's how much our #teamawesome students collected this month for the Peace River Food Bank. When we first took up the Mighty Peace GM challenge, we could not anticipate how competitive our classes would be for the coveted Pizza Party. Our Top Wolves students came up with second, third, and fourth prizes to acknowlege the back-and-forth standings of various homerooms as the leaderboard graphs on the hallway slides changed daily. In the end, of course, everyone wins in a community-based challenge such as this, but here are our official top four:
1st place (360.5 kg) - Mr. Schamehorn's 8A homeroom wins a class pizza lunch courtesy of Mighty Peace GM.
2nd place (311.8 kg) - Mr. Chalifoux's 5Fr students get to come to school in their pajamas on the day of their choice and watch a movie with popcorn supplied by the school.
3rd place (308.9 kg) - The 6Fr students get ice cream or popsicles plus they get to choose something for Mme Leflar to do or wear.
4th place (282.8 kg) - Mme Rosevear's 7Fr students get free time for one period plus they can wear their hats or hoodies up all day.
We are so very proud of our students and cannot thank our families enough for their generous donations.
For photos of each winning classroom, go to our photo gallery.