Back to all posts
Posted on
Scholastic Book Fair on Now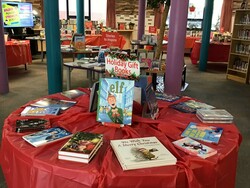 It's so much fun to see the excitement as students, staff, and parents explore our in-person Scholastic Book Fair this week. 
The Book Fair is open to the public from 8:30 to 3:30 p.m. Monday to Thursday as well 5:00 to 8:00 p.m. during SPT Conferences.  
We also have a Virtual Extension so parents, grandparents, and caregivers can shop from home until midnight on Friday, November 25.  
Students get a chance to browse and shop during their regularly scheduled library period and free time awarded to them by their teachers.  Pencils and paper are provided so they can make a wish list for themselves or family members. Books make excellent Christmas gifts!  Check out some of our staff recommendations on our school Facebook page.  
Thank you for supporting our school fundraiser and, more importantly, for helping build classrooms full of bolder, prouder, stronger readers.