Back to all posts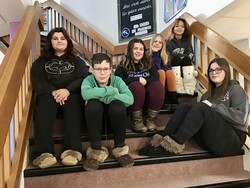 This is Métis Week, a time to bring Indigenous and non-indigenous peoples together to celebrate the unique history, culture, language, and way of life of the Métis Nation. With 114,000 province-wide, Alberta has the largest number of Métis in Canada.
All week long, we have a display in our library with books about Métis culture, history, famous Aboriginal Canadians, Louis Riel, the Battle of Batoche, and more.
On Wednesday, we're participating in Roc Your Mocs Day. 
On Friday, we'll be serving free stew and bannock to all students. It is also the final day to enter our Métis jigging colouring contest. 
Thank you to Vannah Andersen, our Indigenous Education Support Coach, who shares resources with our teachers all year long to promote understanding, respect, and honour.