Back to all posts
Posted on
Your PRSD Guide to Report Cards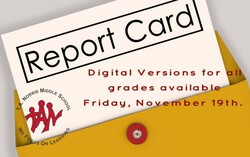 We've gone completely digital!  This year, parents of students in all grades at T.A. Norris can access their child's report card through the Parent Portal of PowerSchool.  If you have not yet set up your portal, call the school at 780.624.3144 and one of our lovely office staff ladies will guide you through the process.
Peace River School Division has prepared this guide to help you understand your child's Elementary (grade 5/6) report card. 
Parent Teacher Interviews will be held on Tuesday, November 23 and Thursday, November 25 from 5 - 8 p.m.  Please go to the Bookings page of our website to schedule a 15-minute slot by phone or Google Meet.